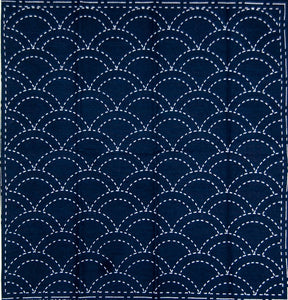 Sashiko pre-printed samplers have wash-off stitching lines. Do not pre-wash. Dark navy - almost reads black.

The seigaiha or wave is a pattern of layered arches forming a fan shape, symbolic of waves or water representing surges of good luck and the desire for continued peaceful living, like the tranquil waves. It can also signify power and resilience.

The design is printed on one half of the sampler. The other half of the sampler has instructions in Japanese which will wash out. You can follow the instructions on the sampler for stitching both layers together or use the plain half as the backing for a pillow or other project. Stitch through both layers for a little heavier fabric if using for a quilt square. In Japan, the samplers are stitched through both layers, hemmed and use for tea towels or table decorations.
100% cotton
Finished size approximately 12 3/4" x 12 3/4"
Made by Daruma