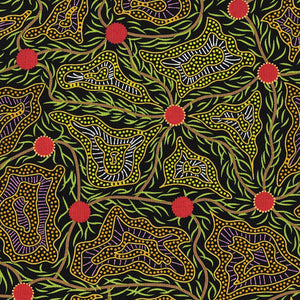 Price is per 50cm increments but will be cut as one piece if you order more than one quantity

100% cotton
44" wide

Minimum cut: 50cm
Designed by Cindy Wallace for M&S Textiles Australia
Dreamtime:
Body painting relates to ancient ancestral ceremonies/gatherings. It is considered a tradition in relation to ancestral spirits. Women paint with various paints and perform ritual offerings to their ancestors. These rituals have strict rules, and the paint must be of their community resembling their ancestors. They are only allowed to paint certain respected traditional patterns. After the paint, the women are considered as the spirit of their ancestors.