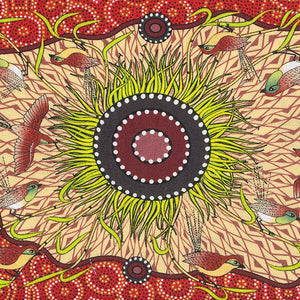 Price is per 50cm increments but will be cut as one piece if you order more than one quantity

100% cotton
44" wide

Minimum cut: 50cm
Designed by Nambooka for M&S Textiles Australia
Dreamtime:
This artwork is about a male southern Emu-Wren which is called Yeerung. It is the symbol of the Kurnai male warriors. Yeerung is known to the Kurnai men as their elder brother and therefore is protected by the men. Kurnai groups are mostly found in the Gippsland region.